DigitizeIt Alternative
Updated 2 years ago
•
4 min read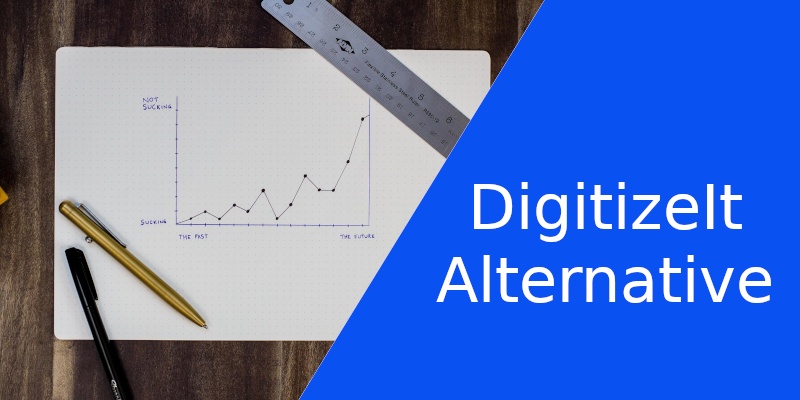 DigitizeIt is software that can extract data from XY graphs and charts. It is try-before-you-buy software and available for offline use only. There is no web interface. According to its website, a single license is sold at $50. On the other hand, PlotDigitizer offers far more features than DigitizeIt at a similar price. The following guide compares the features and differences between both software.
Online version
DigitizeIt provides no web interface, so you only have a choice to download on your machine, while Plotdigitizer offers a FREE web interface. Although the free web version has limited features, it is enough for data extraction. For full access to PlotDigitizer, you have to buy the pro version.
Platforms
Both are available for Windows, Linux, and Mac.
Graph types
DigitizeIt supports only XY graphs. There is no support for other graph types. If you want to extract data from non-XY graphs (e.g., polar diagrams, ternary plots), you must do it manually. The software will fail for such graphs. But this is not the case with PlotDigitizer. Plotdigitizer supports several types of graphs, including XY, bar (horizontal), column (vertical), polar, ternary, pie/doughnut, and distance, angle, and area calculation.
User interface and user experience (UI/UX)
DigitizeIt has a traditional and outdated user interface, whereas PlotDigitizer comes with a modern, polished graphical user interface and is designed to improve users' ease-of-usage. You can check out the free web version.
Images support
DigitizeIt and PlotDigitizer accept all common image file formats, that includes, JPG, TIFF, PNG, BMP, GIF.
Image editing toolkit
DigitizeIt offers image editing tools (zoom, mirror, rotate) with limited functionality, while PlotDigitizer provides extended image editing features. With PlotDigitizer, you can scale, crop, rotate, flip, and zoom the image.
Axis scale
Both software provides support for linear and non-linear scales. In PlotDigitizer, you can select the axis type from linear, logarithmic, date, time, polar, or inverse (or reciprocal).
Zoom panel (or Magnifier)
DigitizeIt has no zoom panel or magnifier that can ease the selection of data points and improve the accuracy of selection. Plotdigitizer facilitates its users with a zoom panel. Further, you can customize the level of magnification.
Export options
In DigitizeIt, you can export the extracted data to CSV file formats only. Also, you copy the data to the clipboard. In PlotDigitizer, besides basic export options, you export the data to JSON, MS Excel, and Programming Array.
Automatic data extraction
Both programs are efficient in automatic data extraction.
Dataset management
You can sort, store, and retrieve the data in both software.
DigitizeIt vs PlotDigitizer

| Features | DigitizeIt | PlotDigitizer.com |
| --- | --- | --- |
| Online version | No online version | Free online version |
| Platforms | Windows, Mac, Linux | Windows, Mac, Linux |
| Graph types | XY | XY, bar/column (vertical), bar (horizontal), pie/doughnut, ternary, polar, distance, angle, area, maps |
| UI/UX | Traditional | Modern |
| Images support | Support all common image formats | Support several image formats, including common |
| Image editing | Yes (limited) | Yes (crop, scale, flip, rotate, zoom) |
| Multiple axis scales | Yes (linear, log, reciprocal, date, time axes) | Yes (linear, log, reciprocal, date, time axes) |
| Zoom panel | No | Yes |
| Export formats | CSV | CSV, JSON, Array, MS Excel |
| Automatic extraction | Yes | Yes |
| Dataset management | Available | Available |
Screenshots