Engauge Digitizer Alternative to Digitize Graph & Plot Images
Updated 2 years ago
•
4 min read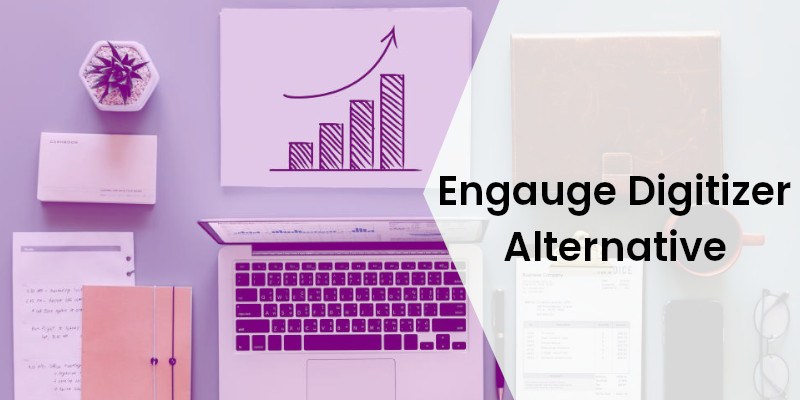 Engauge Digitizer is one of the popular graph digitizers that allows users to extract data points from graphs and charts. It is free and open-source software and available for download at Github. However, you can extract numerical data values from XY graphs only. Besides that, there are many other drawbacks of the software.
PlotDigitizer is the best free alternative to Engauge Digitizer to digitize plot and graph images. PlotDigitizer is professional and polished software. Further, it is available for online as well as offline use. The free online app of PlotDigitizer suffices all the basic requirements for data extraction. In the rest of this article, we have compared the features of the two tools.
Online app
Engauge Digitizer does not have any web interface. You have to install it on your local machine to use it. On the other hand, PlotDigitizer offers a free online app for users, so they can test the tool before installing it on their computers. Though PlotDigitizer's online app has limited features, it is enough for data extraction. You can check it out here.
User interface
The professional user interface and smooth user experience are some of the key features of PlotDigitizer. PlotDigitizer totally surpasses Engauge Digitizer in the user interface. A well-designed user interface helps new users to quickly get accustomed to new software.
Graph types
Engauge Digitizer supports only XY graphs, while PlotDigitizer gives support for several types of graphs. This includes XY, polar, ternary, pie/doughnut, bar, column, histogram, and map. Further, you can calculate distances, angles, and areas of a portion on the image.
Zoom panel (magnifier)
The zoom panel is a magnifier that displays the enlarged portion of the image around the cursor. This feature comes in handy, especially during manual data extraction. You can improve the precision of data points using the zoom panel. Engage Digitizer lacks this feature entirely. PlotDigitizer offers the zoom panel in both the free online as well as offline version.
Automatic data extraction
Engauge Digitizer provides automatic data extraction. However, it has limited functionalities. With PlotDigitizer, you can rapidly digitize your graph images through various in-built algorithms. The algorithms can detect points and curves from graphs. Moreover, you can automatically extract data from bar, column, histogram, and step-size graphs.
Image file formats
Both programs accept all common image file formats. You can upload PNG, SVG, JPG, GIF, BMP, WEBP, and TIFF images into PlotDigitizer.
Image editing toolkit
Many times, the graph or plot image may not be perfect. It might require minor adjustments and editing. PlotDigitizer has in-built image editing tools with which you crop, zoom, scale, rotate, and flip the image. Additionally, you can sharpen or clarify the image or turn it into grayscale.
Export file formats
Using Engauge Digitizer, we can export the extracted data only to text files. But this is not the case with PlotDigitizer. PlotDigitizer offers users numerous export options other than text files, such as CSV, MATLAB, Python list, JSON, MS Excel.
Multiple axis scales
Plots are not always necessarily drawn on linear scales. Particularly in science-related graphics, the data is often visualized on a nonlinear scale. PlotDigitizer supports data/time, logarithmic, and reciprocal axes.
Platforms
Both tools are available for all three OS: Windows, Linux, and Mac. The installation of Engauge Digitizer might be a bit complicated in the Windows environment.
Math parser
You do not have to evaluate mathematical expressions; PlotDigitizer can parse math equations. For example, instead of elevating "0.25 * 3.14…", you can simply enter "¼ * pi."
Multiple dataset storage
You can save and store the extracted data points in both software.
Engauge Digitizer vs PlotDigitizer

| Features | Engauge Digitizer | PlotDigitizer |
| --- | --- | --- |
| Online version | No web interface | Free online app |
| Platforms | Windows, Mac, Linux | Windows, Mac, Linux |
| Graph types | XY | XY, bar (vertical)/column, bar (horizontal), pie/doughnut, ternary, polar, maps, histogram, step size distance, angle, area |
| UI/UX | Outdated | Modern and professional |
| Image file format | Accepts regular image formats | Accepts several image file formats, including standard ones |
| Image editing | Yes (Zoom, crops, rotate) | Yes (zoom, crop, scale, flip, rotate, clarity, grayscale) |
| Multiple axis scales | Yes (linear, log, date & time) | Yes (linear, log, reciprocal, date, time axes) |
| Math Parser | Not available | Can parse mathematical expression |
| Zoom panel | No | Yes |
| Export formats | Text file | CSV, JSON, Array, MS Excel, MATLAB |
| Automatic extraction | Yes | Yes (points, curves, histogram, bar, column, step-size) |
| Multiple datasets | Available | Available |
Screenshots